Scope
Website Design
SEO & LSO
Advertising
Social Media
Strategy
Concorde Hotel wanted to create a strong marketing structure for the USA market and build long-term customer loyalty. They approached us to take over their digital marketing and re-invent their approach for the USA market.
Work
A hotel's heart is its website, where guests make their final decision regardless of whether they book directly or through an OTA. Our first act was to change the overall branding & design of the website without compromising the user interface; we made sure that direct booking was our priority.
Features
Custom Design
Wordpress
Responsive
ADA Compliance
On-Page Optimized
The website highlights Concorde Hotel's high-end cuisine with a gorgeous and upscale design. An overall luxurious look and feel.
Silver Winner
Hotel Website Design
At the same time as the launch of the new website, SEO & LSO campaigns started. Our SEO campaign is built for the future; the local SEO campaign focused on today, especially as Meta Search became a critical direct booking revenue channel.
Within 18 months of the launch of the Local SEO campaign, we produced pretty impressive results. We generated 1.54 Million total searches, and 920k came from discovery words, which helped us to increase the website traffic by 30% within this short window.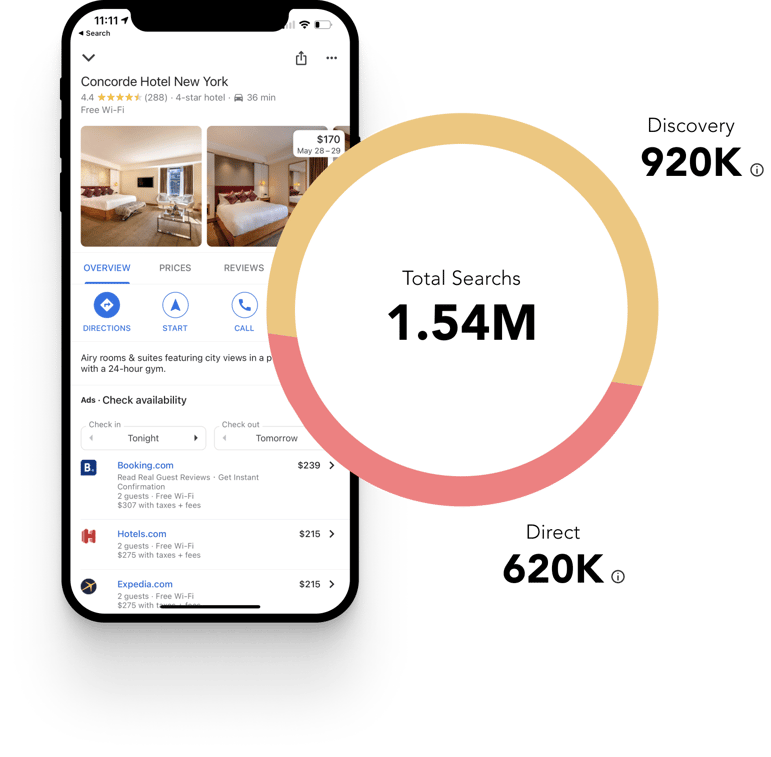 Prospective
Retargeting
Travel Ads
Social Ads
Meta Search
Remarketing
PPC
Our advertising strategy covered diverse advertising channels to make sure that Concorde Hotel had multiple revenue streams. We replaced all the percentage-based advertising channels with low fixed cost alternatives. That move itself generated substantial cash for the hotel.
After mapping out the booking path of our guests, we converted our advertising traffic into qualified potential guests when they are close to making a booking decision by targeting the right people at the right time.
Results
34x ROI – Monthly Average
1.81% Conversion Rate – Monthly Average
140 New Guests – Monthly Average